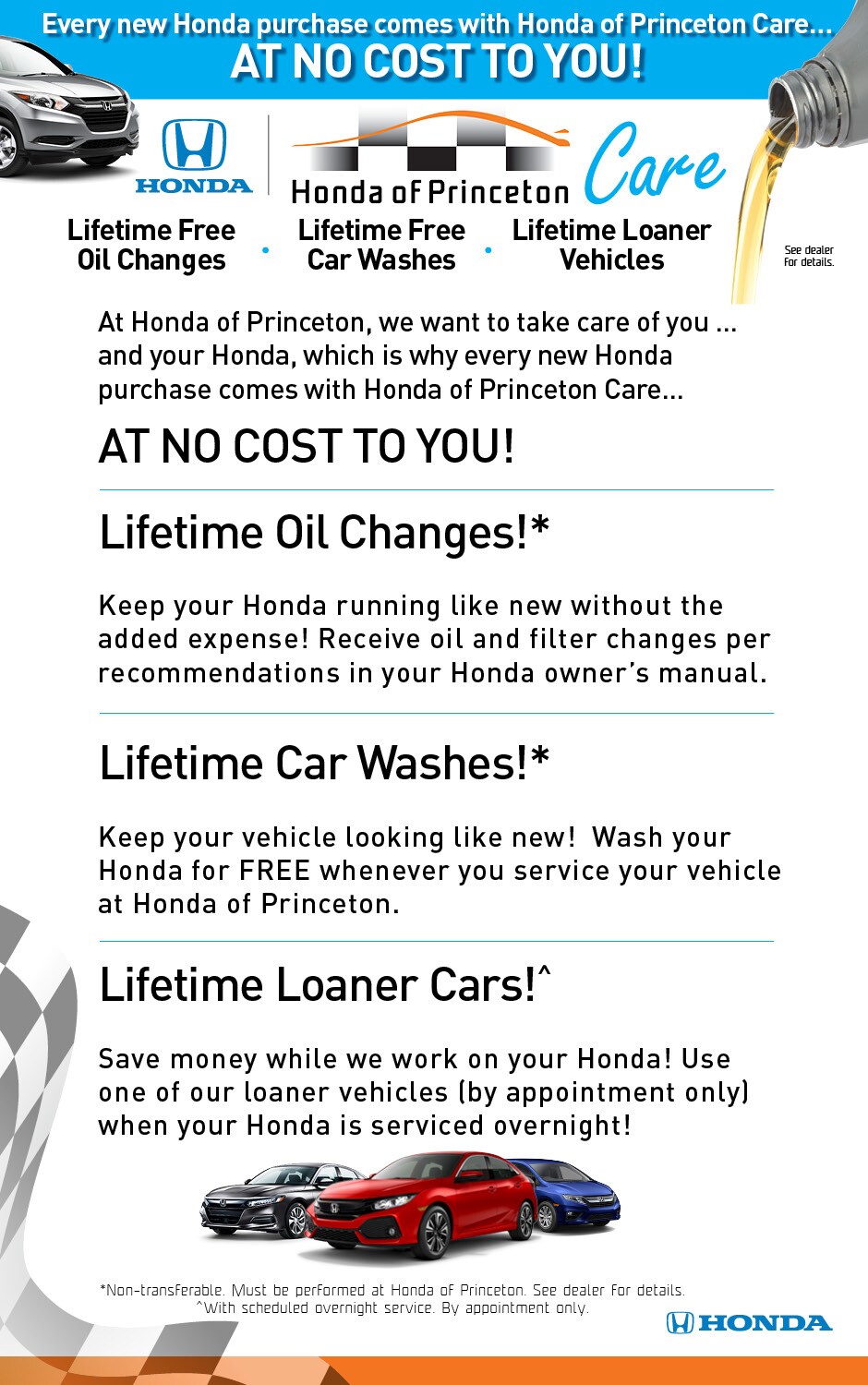 Enjoy Hop Care to Service Your Honda at Honda of Princeton
Honda of Princeton makes it simple and convenient for you to routinely maintain and service your car, through Honda of Princeton Car, or Hop Care. When you purchase a new Honda from our dealership, you get to enjoy some complimentary maintenance services that you would ordinarily pay for at other dealerships. This enables you to spend more time enjoying your new Honda and helps reduce long-term costs on maintaining the vehicle overall. Let us answer some of your questions on Hop care here at Honda of Princeton. You can find our service center on-site at our dealership and less than an hour outside of Bridgewater Township.
What is Covered Under Hop Care?
Under Hop Care, Honda drivers enjoy free oil changes, free car washes, and (if necessary) complimentary loaner vehicles if we need to hold your Honda for overnight service. Drivers will enjoy these benefits for as long as they own their Honda in Bridgewater.
Is Hop Care Applicable to other Used Honda/Used Cars?
No, only new Honda a purchases are eligible for Hop Care.
Is Hop Care Transferrable Between Owners?
No. As used Honda cars do not qualify, these benefits cannot be transferred between owners in Flemington should you decide to sell/trade your Honda.
When is the Service Center Open?
You will find our Honda service center in Princeton, NJ open Monday-Thursday from 9:00 am - 9:00 pm as well as 9:00 am - 6:00 pm Friday/Saturday. Our service center is closed Sunday.
Enjoy Hop Care in Princeton, NJ
We invite drivers to start financing a new Honda, if you haven't already done so, and take advantage of Hop Care here at Honda of Princeton. Visit us today here in Princeton, NJ to learn more; you will find us located less than 45 minutes outside of Edison. We hope to hear from you soon!